Thanks everyone for the support/wisdom/commiserating on my last post re: weight. This is why I blog, for the support and friendship all my blog-buddies provide. Today I'm taking the advice of Ann over at
Slow And Steady Wins The Race
. I'm watching my fluid intake and making sure what I'm feeling is actually hunger, not thirst. I had a little but of a snack craving this morning so I made myself one of these: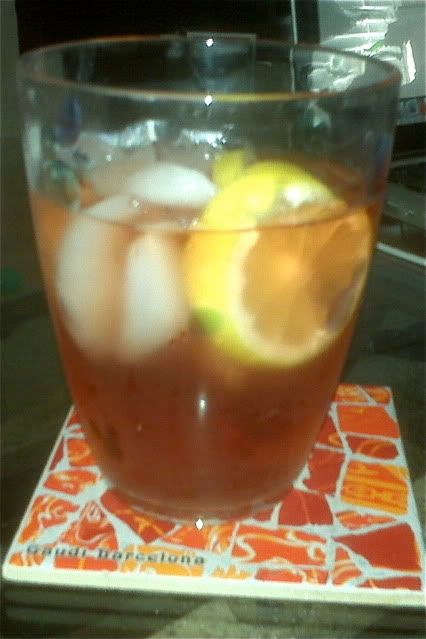 I brewed a lemon zinger herbal tea in my keuring, poured it over ice, and topped it off with some fresh sliced lemons. Yummm! (And refreshing in this crazy FL heat!!)
Now for the topic of my post today:
I'm a prisoner at home!!
Ok, it's not as bad as it sounds. Here's the deal: I woke up today a little too late to go out on the road for a few miles (reminder: Florida, summer, 'nuff said). So I got dressed to head over to the gym. When I opened my front door I see a sticker from yesterday saying fedex tried to deliver my new cell phone that I'm
patiently
eagerly-jumping-up-and-down waiting for. It said they'd try to re-deliver today sometime before 7pm. Well isn't the whole darn day before 7pm?? Ugh.
If that wasn't bad enough, our home-owners-association is repainting all of our garage doors & exteriors, and when they're doing this we need to be home so they can paint the front door - which needs to be opened slightly. Guess who's turn it is today??
Long story short...no gym for MJ.
I do have an elliptical in the garage:
But today I want to run! I'm tired of wimping out of running, and I'm tired of turning to the elliptical. So, I want to trade/sell my elliptical for a treadmill.
Here's my question to you....

If you own a treadmill, what make/model/etc do you recommend and why? What are some reasons to own/not own a home treadmill vs. elliptical? Please share!