We're back from an amazing weekend in Ohio. Everything went very smooth getting up and back. We flew up on Friday, drove the 2 hours from Detroit over to Sandusky, OH and stayed at a very cute little B&B by the waterfront:
This was our first time staying at a B&B and I really liked it. There were three rooms for rent in the house and Hubster's family took up the whole place. It was us, his parents, and his brother & sister-in-law. We all get along great so it was fun having the whole family under one roof.
Friday evening we went over to Cedar Point and I rode Millenium Force and all the usual rides...including....wait for it.... Top Thrill Dragster!!
I'm in the second row back, closest to the camera. You can't see his face but my FIL rode it with me. Everyone else in the family chickened out!! We're talking the second tallest & fastest roller coaster in the world my friends! It was amazing!!! So glad we were the 'brave ones' and rode it. Of course we bragged about it for the entire trip. :)
Saturday morning my MIL, SIL & I went out for a nice short run along the waterfront. We took our time and ran along the docks overlooking Cedar Point. The weather was perfect and cool. We finished up 3 miles then walked over to a local farmer's market for some fresh fruit to have with breakfast. It was a lot of fun.
Saturday night the wedding went off without a hitch. It did rain, but that is a sign of good luck so we're not counting that as something bad. :) The reception was a lot of fun and my SIL & I definitely burned off a lot of calories dancing!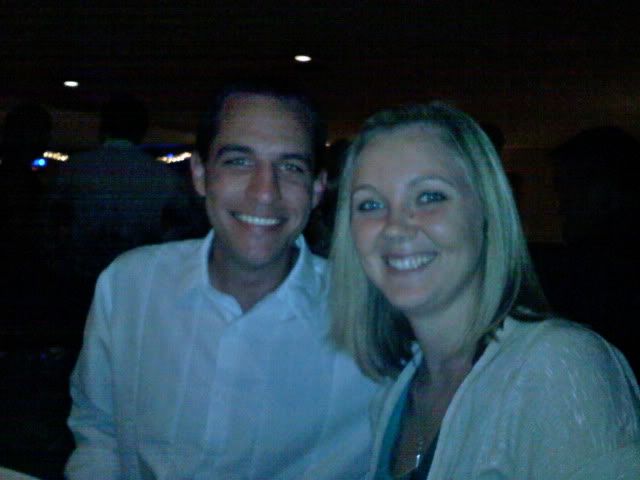 Hubster & I at the reception - taken on my phone to quality is crappy.
I'm glad to be home, not looking forward to work, and will miss the peacefulness (and amazing breakfasts) of the bed & breakfast we stayed at. But I have a 10 miler to look forward to Wednesday morning!!